A monthly magazine since 2012
Residents Watch is a 36-page monthly neighbourhood print publication since 2012, perhaps the first magazine in India dedicated to one neighbourhood. There are tabloids but there has never been a glossy, all-colour magazine dedicated to one small area. Since September 9, 2018, it has become a daily news channel on HSR Layout through the mobile app, Frontpage, both on Android devices and Apple phones.
Brought out by Write Wing Media, Residents Watch is a platform to address grievances both in print and on its social media channels to better the neighbourhood. It's the conscience keeper of HSR Layout where the voiceless find a voice and their complaints are heard and acted upon. We were the first to organise the biggest peaceful public protest HSR had ever seen way back in October 2015. This was against the government-sponsored polluting compost plant: Karnataka Compost Development Corporation (KCDC). From a proposed 1000 tonnes per day, the garbage processing has been progressively brought down to the present 80 tonnes.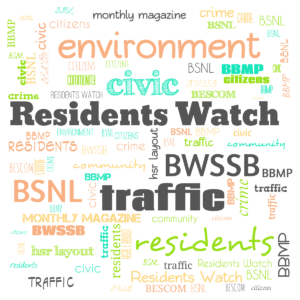 That's not all. We have assisted and supported several campaigns like garbage segregation, anti-plastic movement, protesting against the transfer of honest public servants, removal of black spots, mapping bad roads on Google Maps, writing to CM on good roads being re-tarred while the bad roads were left untouched, and much more. Instead of the 'report and move on' kind of journalism, we are ushering in follow-up journalism that will continue to pressure the authorities and the netas until the issue is resolved. Not only are we informing the residents of what's happening on ground but also educating them on what's right and wrong in our area.
Through our proactive social media platforms, we also address civic issues in real-time. Our Telegram group includes local politicians, government officials, civic activists, resident welfare associations, apartment associations and the Bangalore media. We name and shame people to get things done. We also urge the residents to find the god within and do their bit to better the neighbourhood. From solving the double and triple parking of Uber cabs on 27th main to stopping park and footpath encroachments, rampant commercialisation, building bylaw violations and the visual pollution caused by flex banners, the issues have been diverse and all-encompassing.
But the best thing is how we are grooming residents through our platform. With their own efforts, several residents are showing what it takes to be the next corporator and MLA by being on ground, proactive, participative and optimistic fighters who will not take 'no' for an answer to their civic issues. Not only has Residents Watch become a springboard for civic activists but also future politicians who have the residents' interests at heart. If such a model can be adopted across the country, politics will no longer be a dirty word.
We have also initiated an anti-corruption drive against government officials. Anyone who has enough proof to incriminate them can mail us the details and we will name, shame and have them punished. In addition, if readers of HSR Layout have positive stories to share about human achievement or a personal experience of how they got their work done without paying a bribe or a story about how they got their apartment water sufficient by installing rain water harvesting and so on, they are welcome to share such stories. These are merely examples to get you thinking in the right direction. Tell us the story you want to share by shooting us a mail first ([email protected]). If the subject or experience is new and has not been published by us before, we would be more than happy to publish it. We are interested in 'Do It Yourself' stories and 'It Happened To Me' experiences on any subject under the sun. The only criteria is that you should be a resident of HSR Layout.
Recognition for our efforts has come along from various quarters. Our editor Zahid H Javali was shortlisted for the 'Media Person of the Year' award in 2018 by the Namma Bengaluru Foundation. He was also honoured by the National Students Union of India (NSUI) on the late Dr Abdul Kalam's 86th birth anniversary celebrations in October 2017. The same month, the Indian Institute of Management (IIMB) conducted a study on Residents Watch and its use of social media to better the neighbourhood.
Residents Watch is a living, breathing example of why it's important for grassroots community journalism to thrive. If every journalist adopts their neighbourhood and remains apolitical and non-partisan in delivering news and views, much can be achieved. As the HSR Layout edition of Residents Watch has shown.