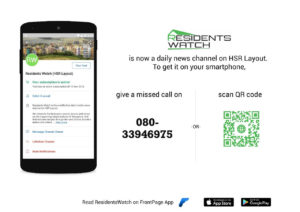 And reach the right people
The future is online. Which is why, the print edition of Residents Watch is no more. Not many people rely on TV or the newspaper for their daily dose of news as it's 24-hours old already. Which is why, we have taken the big step of coming on to your smartphones. Yes, we are now a daily news channel on your smartphones. And it pays to advertise with us on our mobile platform because people consume news on their phones as it happens. And the best part of our mobile app is that you can read it anywhere: on our mobile app, in your favourite internet browser or on your choicest social network as all the stories can be shared across the world wide web.
Therefore, it pays to advertise with us on the all-new mobile platform of HSR Layout Residents Watch. Your advt will reach over 25,000 people on social media as our mobile app registers daily views of up to 12,000/day, and counting. Contact us for the detailed tariff – it ranges from Rs 1500/month to Rs 12000/month, depending on the monthly or yearly package you choose. There are options for display ads, video ads and promotional articles.
This glossy, daily news channel on smartphones for HSR Layout has everything a resident needs to understand their locality. From civic and social news to people stories, resident activism, local events, traffic and pollution news, to crime roundup and weather updates, the channel has everything a resident and visitor of HSR Layout needs.
Do take advantage of its exclusive coverage that you will not get anywhere, either offline or online.
Sufficiently interested to advertise with us? Call us now on +91-98805-85748.
Looking forward to your business!
P.S: Mail us ([email protected]) and we will be glad to send you the detailed rate card with contract deals, yearly packages, size specs, terms and conditions.